We have talked about Search Engine Optimization in our previous blogs, but SEO is simply a part of the bigger Search Engine Marketing (SEM), which includes direct paid methods to increase search ranking. This article goes through the various components of Search Engine Marketing and also differentiates it with Search Engine Optimization.
Contents:
What is Search Engine Marketing?
Difference between Search Engine Marketing and Search Engine Optimization (SEO vs SEM).
Tips for an optimal Search Engine Marketing plan.
Conclusion
Footnotes
What is Search Engine Marketing?
In our previous blogs we have covered the basics of Search Engine Optimization and various SEO tools to help increase your Search Engine Result Page (SERP) ranking. However, SEO stands merely as a part of the greater Search Engine Marketing.
Search Engine Marketing aims to increase your search engine ranking by organic and paid methods. This is in hopes of increasing traffic to a specific website or web page, depending on the search result and/or the parts of the website advertised on the search engine.
Pay Per Click (PPC) is the most popular method of Search Engine Marketing. Under this, search engine marketing tactics like Google Ads target specific pre-selected search queries. For example, if you search 'ipad' on Google, the top results often have an 'Ad' tag along them. Those are websites targeting the search 'ipad' from Google Ads(1). Now, under PPC method, a part of the advertiser's budget will be cut every time the link advertised is clicked, corresponding to that particular search query.
Difference between Search Engine Marketing and Search Engine Optimization (SEO vs SEM).
While SEO aims at increasing organic traffic by unpaid or indirectly paid methods and strategies (such as SEO tools(2)), Search Engine Marketing is mainly about researching, budgeting, and managing Search Ad campaigns which aims at driving paid traffic to your website. This difference between the nature of traffic (organic vs paid) stands as the main point of differentiation between the two. Some other differences are:
SEM results offer certain paid extensions, such as contact number and direct links to other pages on the website, while SEO only shows a website's homepage or a certain page as determined by the search keyword(s) and other SEO ranking Factors(3).
SEM results have an 'Ad' tag along them while SEO don't. This is to ensure transparency and to differentiate organic SEO results from advertised ones.
SEM strategies ensure immediate rankings, while SEO strategies are time consuming and long-term. SEO requires checking a long list of ranking factors before a particular site's links are shown highly on the results page. However with SEM you can directly put your web page(s) at the top of a search result.
SEM ensures a more specified and direct targeting. Tools such as Google Ads let you specify what kind of audience you want your SEM results to be shown to. These not only involve keywords, but also the audience's personal data such as age bar, gender, interests, and location.
Tips for an successful Search Engine Marketing plan.
Search Engine Marketing campaigns require a comprehensive, well-researched, budgeted, and formulated plan to be successful and generate adequate traffic. Here are some of our tips for an optimal SEM campaign:
Invest in Keyword Research. While you can target audience based on other factors (which would mostly be the predefined target audience for your products/services), the ultimate deciding factor for landing page is keywords. Tools such as answer the public can be really helpful with those. However if you are planning for an all-in comprehensive SEM campaign, we would suggest go for one of the 'pro' research sites such as

wordtracker

.



Keep track. Maintaining a daily journal for traffic corresponding to each keyword campaign is a good start to know what works and what does not work for your business.
Maintain a landing page with adequate design and simple UI. After landing a user on your page, the next step is keeping them there. This can be achieved by maintaining a well-designed landing page without leftover code, reducing load time, and designing an simple, user-friendly interface. Make sure to run all the necessary checks on those pages before putting them up for advertisement or you may waste your time and money.
Implement Ad extensions for a user-friendly experience. Ad extensions show multiple clickable pages under one advertisement relating to a particular search. This is could be really convenient to the user as they could click directly on the desired page, generating traffic to that page directly. You can also list your contact info or a call out with extensions to increase conversions.
Use tools and strategies to help improve the campaign. Going into a SEM campaign without proper research and SEM strategies is not likely to produce high results. Therefore we would recommend going through various SEO/SEM tools to help with campaign management and research so that you could make most out of your SEM plan. You can find a full list of best free and paid SEO/SEM tools here.
Conclusion
Search Engine Marketing strategies are of great importance since maintaining a dynamic online presence has become a competitive necessity these days. With such high competition, it can be really challenging to work through. However with proper planning, strategies, and guidance it can surely be achieved.
We Can help!
Search Engine Optimization and Marketing can be a tricky concept to understand and even trickier to tackle. Symphysis maximizes the number of times you appear in organic search queries. Our SEO team begins by reducing loading time, improving image quality, removing leftover template code, implementing analytics, all while improving keyword ranking. For more information and a free initial consultation, call or text @ +1 (425) 390-4738.
Footnotes
Google Ads (formerly Google Adwords) is Google's advertisement system under which one can post clickable ads corresponding to certain key words. To go to Google Ads click

here

.
SEO tools help improve search rankings by offering various strategies and services to work on various ranking factors. To learn more about SEO click here.
Ranking factors determine which webpage will be shown first based on a search, these include backlinking, Keyword stuffing, loading time, etc.
Online discoverability is one of the most important marketing requirements in 2020. Not only does it help build goodwill of the firm, but maintaining an online presence has become a survival necessity for any business in 2020. Search Engine Optimization is one of the most popular marketing strategies for generating organic audience for your online content, but it is useless unless done correctly with the right tools.
Content:
The basics and importance of Search Engine Optimization in 2020.
Best Free SEO tools worth your time in 2020.
Best Paid SEO tools worth the cost in 2020.
Conclusion
The basics and importance of Search Engine Optimization in 2020
Search Engine Optimization increases search rankings. When a user does a search on any online search engine like Google or Bing, search rankings dictate which website's content will be shown first (relevant to the search keywords). Search Engine Optimization helps increase such ranking with methods such as backlinking and Keyword Optimization so that content from your website is placed before your competitors.
The importance of SEO can be determined in terms of discoverability and Best Practices. Given the cut-throat competition these days, it has become a necessity to stay current and competitive in every aspect of business to increase your brand's goodwill and gain a competitive advantage over other businesses in the industry.
For more about types of SEO strategies (Black Hat vs White Hat and On-page vs Off-Page, SEO tips, and other fundamentals of Search Engine Optimization) click here
15 Free SEO tools 2020
While paid options are often superior, for anyone starting out with Search Engine Optimization or working on a low budget, free SEO tools can be a very effective route for improving discoverability and increasing impressions. Here are our picks for the best Free SEO tools worth your time:
1. Answer the Public.
One of the most popular SEO tools in 2020, Answer the Public is a great tool for commercial blogging and generating traffic towards your blog via keywords optimization. It can be described as a 100 times more efficient version of Google suggestions. It lists the most popular searches about a particular topic and is a great tool for blog keyword optimization.
Check it out here
2. Moz Local Listing Score
Forget about international competition, small and medium businesses often require a locality-based search ranking check among its competitors. Moz Local Listing Score does so by checking your businesses' search ranking in comparison to other businesses in a particular area. It searches sites like Foursquare, Facebook, and Google. It also shows actionable fixes for issues and problems regarding your listing.
Check it out here
3. Google PageSpeed Insights
Google claims page loading speeds are one of the biggest factors in its search rankings. They have claimed to use mobile version of the website to determine its ranking, which is where the loading issue often occurs. This tool shows you loading issues with your website, along with suggesting remedies and measures to increase loading speeds.
Check it out here
4. SEMrush (Free Plan)
SEMrush offers three main plans, Pro, Guru, and Business. However there is also a free alternative, which offers limited access to almost all of its services. While it is suggested to choose from one of the above plans for medium and large businesses, its free plan can be very helpful to small businesses as well.
Check it out here
5. SEObility
While SEObility is a paid tool, it offers its services for limited use for free. It is mainly comprised of analysis services. These include SEO check, keyword check, Ranking check, and SEO compare.
Check it out here
6. Google Search Console
One of the Google's Webmaster Tools, Google Search Console tools and reports help you measure your site's Search traffic and performance, fix issues, and make your site shine in Google Search results.
Check it out here
7. Google Analytics
Probably the most popular free SEO analysis tool, Google analytics offers you the power to monitor every kind of traffic you can imagine on your website. It also offers feedback on which keywords visitors use to reach your web pages. It is done by a unique tracking code that Google provides to you, which can be used by pasting it into your webpages. Google can track visitor traffic and provide the metrics to you.
Check it out here
8. Moz (Free SEO tools)
Moz offers over fifty SEO tools under Moz Free SEO services. These include backlinking and keyword recommendations. It is a great place to start Search Engine Optimization for beginners.
Check it out here
Other Free SEO tools
Other than Moz's range of free SEO tools, there are a number of other free SEO tools and sites online that offer great SEO support and boost. Some of our favorite free tools include:
9. Schema Creator - Create rich snippets and functionality for search engines.
10. Keyword tool - Find relevant keywords for your website.
11. XML sitemap generator - Develop a sitemap for Google Crawlers.
13. SEOquake - Check SEO, Backlinks.
14. SEO Minion - Check SEO, Broken Links, Headers.
15. Siteliner - Find Duplicate Content.
11 Paid SEO Tools 2020
Keywords Everywhere
Keywords Everywhere is an effective keywords analysis and management tool which can be used as an extension for Chrome and Firefox browsers that shows search volume, CPC, and competition on multiple websites for every keyword in the searchbox. Keywords Everywhere is also compatible with many other valuable sources such as Google Trends and Answer the Public.
Check it out here
While there are a lot of free SEO strategy options to choose from, those looking to focus on search engine rankings with a more serious and professional approach often prefer paid or 'pro' SEO tools. Here are our top picks from the paid SEO options that are worth the cost:
Ahrefs
Ahrefs is great for analysing your competitors' backlinks. It is the world's second largest crawler, only succeeded by Google Crawler. It is a great platform to determine where to start linkbuilding by analysing your competitors and potentially gaining a competitive advantage over them.
Check it out here
Raven Tools
Raven Tools works as a culmination of various SEO services, taking metrics from tools like Majestic SEO, SEMoz, Google Analytics, Google Webmaster Tools, and Google Adwords to provide a comprehensive search ranking result.
Raven Tools also offers over two dozen SEO services including link building, content/campaign management, competitors' link analysis, etc. It is a great tool for those looking to start getting into professional Search Engine Optimization.
Check it out here.
Wordtracker
As suggested by the name, Wordtracker is probably the best keyword research tools with data on over 250 million keywords in partnership with SEMrush. It has now included a 'linkbuilder tool' as well, which helps you find best backlinking prospects for you. It also shows competition data on how many pages are competing for each keyword and what it's potential value is, giving a good push for competitor analysis as well.
SEO PowerSuite
SEO PowerSuite, like Moz, is a comprehensive SEO tool that has its services divided mainly into four branches, namely Rank Tracker, WebSite Auditor, LinkAssistant, and SEO SpyGlass. You have the option to either go for services individually or opt for an all-in-one plan as per your needs.
Rank Tracker
Supports over 300 search engines internationally. It shows website ranks from individual or grouped keywords and also suggests best keywords for optimization.
WebSite Auditor
lets you run an audit on your whole website or individual pages as per your needs. It shows errors such as broken links, duplicate content, and missing HTML elements as well as suggesting methods to fix such issues.
LinkAssistant
finds and suggests relevant and valuable link-building partners along with their contact info. It also lets to create and manage your own cloud linking directory.
SEO SpyGlass
lets you spy on your competitors' ranking and backlinking tactics. It shows their Google PageRank and Alexa Traffic Rank, along with their anchor and title keyword density.
Check it out here
SEMrush Pro
We have discussed its free version, but SEMrush Pro packs various advantages over its free version. It is a great tool for systematic management and observation on search rankings, especially for analytics reports about your own website's search data, traffic, and the same about your competitors' websites as well. It also is a great tool for comparing keywords and domains.
Check it out here
Buzzstream
Buzzstream's primary purpose is Backlinking and Link-management. It is a great tool for CRM, Link building, and Social Media management. It lets you bookmark websites, search pages for contact info, collect metrics, track Twitter conversations, and overall help with online presence management.
Check it out here
SEOmoz (MOZ Pro)
SEOmoz offers free service such as an Open Site Explorer to find backlinks. However, like most SEO tools it offers its premium services such as tracking ranks, analyzing social media activity, comparing backlinks among different URLS, testing a website for crawl errors, and performing keyword analysis under a pro package. It is one of the most respectable SEO tools due to its convenient and user-friendly design and effectiveness.
Check it out here
Quicksprout Website analyser
Quicksprout connects to Google analytics and analyzes SEO data, social mentions, pagespeed and provides recommendations for improvement based on the inputs and results generated by it.
Check it out here
Majestic SEO tool
Majestic SEO tool is a backlinking tool which lets you check a website's citation flow, keywords, anchor text, and backlink history. It also lets you analyze you and your competitors' backlinking background to building a better link-base.
Check it out here
WhiteSpark
There are a lot of other effective paid SEO strategies and tools which can be used according to your business' needs. We recommend established SEO tools such as Whitespark (another comprehensive SEO toolkit) and Advanced Web ranking which can help you grow your search ranking.
Check it out here
Conclusion
Your SEO needs truly depend on your business' needs and requirements, its unique variables, and SEO strategies required in the particular industry. While such tools can be really effective, professional help is often recommended if you are looking to gain a competitive advantage in the industry.
We Can help!
Search Engine Optimization can be a tricky concept to understand and even trickier to tackle. Symphysis maximizes the number of times you appear in organic search queries. Our SEO team begins by reducing loading time, improving image quality, removing leftover template code, implementing analytics, all while improving keyword ranking. For more information and a free initial consultation, call or text @ +1 (425) 390-4738.
In a society where markets are driven primarily by customer convenience and online discoverability, Search Engine Optimization (SEO) is an important brick in building a successful brand and driving traffic to your website. This brief article from our "Marketing How To" series takes a beginner's in-depth look at the basics of SEO and tips on how you can you use it most to your own advantage.
The following queries are tackled in this article.
What SEO is (Meaning and Definition of SEO).
How is SEO an integral marketing strategy?
Black Hat vs White Hat SEO.
On Page vs Off Page SEO.
Back Links and the Credibility Spam
SEO Tips for utilizing SEO to your best interest and increase Ranking and Discoverability.
What NOT to do.
Footnotes
What is SEO (Search Engine Optimization)?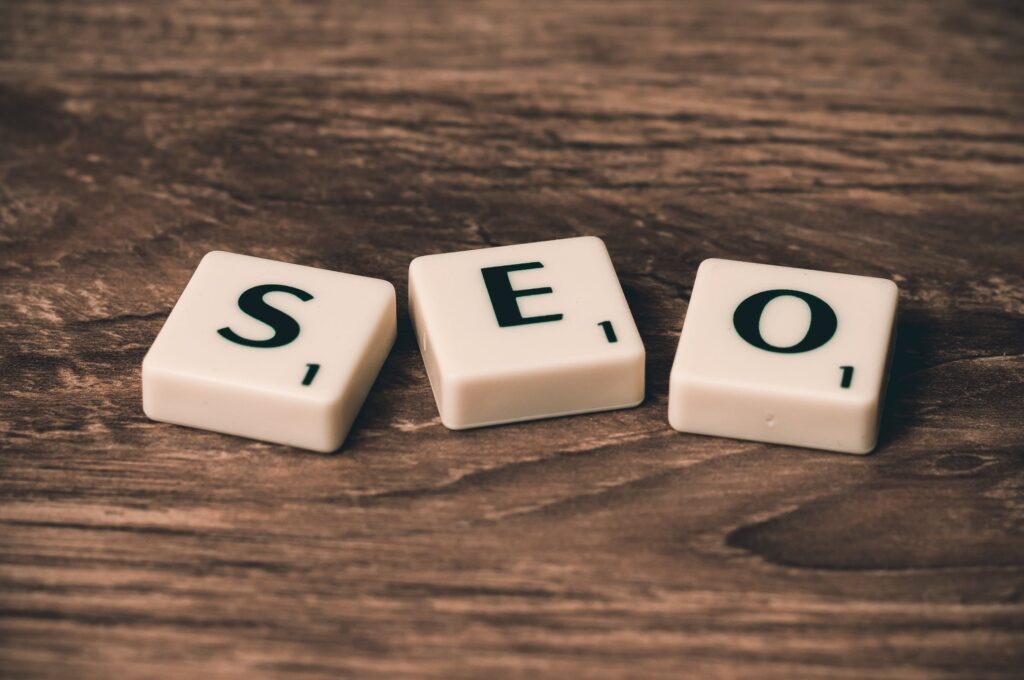 When you post content online, the main objective for the post is to make it discoverable to your target audience. There are two primary ways to do that. The first way is advertisement: paying websites with decent traffic to drive their users to your content. But the obvious flaws with this tactic is the audience attracted is often temporary and new startups and small businesses or organizations cannot invest a great deal in such advertisement.
The second and more effective way of generating long-term organic audience for your content is Search Engine Optimization (SEO.) Search Engine Optimization is the process of customizing your website to appeal to search engines. This can be accomplished by having relevant keywords to the topic of your site, a layout that Google (or another search engine) thinks is organized, and fast load speed. Google wants to show it's customers the best and fastest results that relate to their search queries. When someone does a generic or specific search on Google relating to the topics on your website, your pages with relevant content show up higher in search results. Generally, people will click on the first result they see, therefore increasing the traffic on your website.
How is SEO an integral marketing strategy?
In a dynamic online marketing environment, discoverability is one of the most important factors to staying ahead of the competitors. During a time of home delivery and on-call services, customer convenience is very important. Search Engine Optimization targets that precisely, along with building goodwill(1) for your brand, by attracting more and more people to your website. By increasing organic visits to your website, SEO ensures a dynamic buying cycle(2) for the products and services offered.
Black Hat vs White Hat SEO.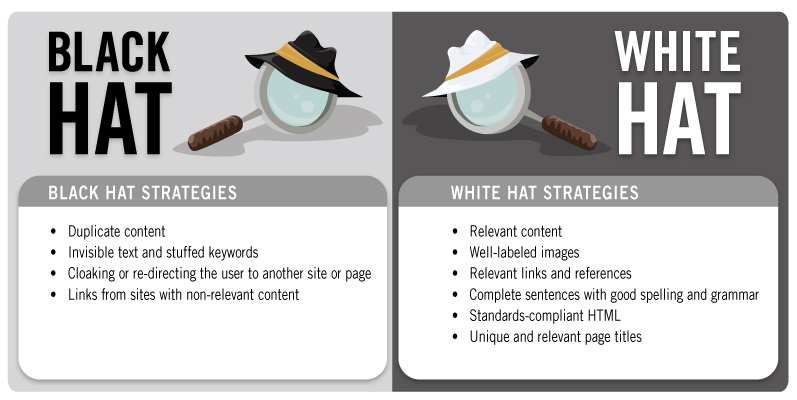 Black Hat SEO refers to the techniques and hacks for generating short-term audience for your website. These techniques include keyword stuffing (Including repetitive chosen keywords in your content), content scraping (Republishing your RSS links to different sites for backlink generation), comment spams (on different comment-enabled websites with links backing to your own website), cloaking (Showing different content to visitors and search engines), etc. Search engines bots, such as Google Crawler(3) do not appreciate Black Hat SEO methods, and upon identification, websites using them can be penalized or even banned.
White Hat SEO, on the other hand, emphasizes primarily on the content of your website. Methods such as better UI (User Interface), Keyword Research and Optimization, Speeding up the load time, and attracting backlinks from reputable websites are the main methods of white-hat SEO. Contrary to Black Hat SEO, it is a long-term marketing tool which focuses on generating organic audience and building an organization's goodwill.
On Page vs Off Page SEO.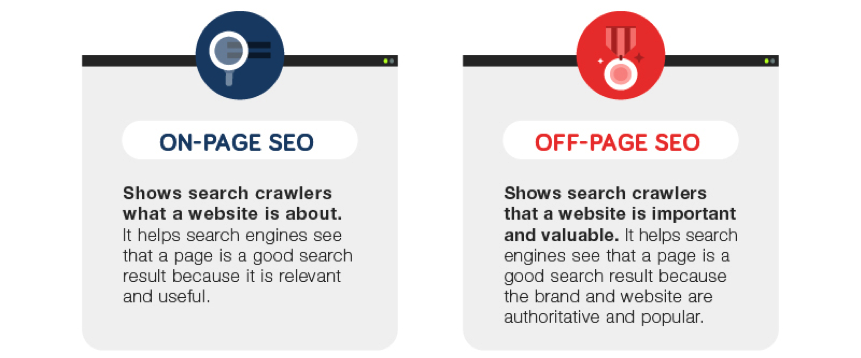 On Page SEO is essentially optimization based on what is actually on your webpages. This is altering and modifying the content on your website to increase discoverability. A simple SEO checklist for On Page SEO is:
Creating Quality Content.
The contents of the page should be relevant to the desired search results. Relevant content increases the chances of appearing in organic search results and reduces bounce rate(4).
The content should be inclusive of various relevant keywords (the actual words that users type in search engines) with a recommended ratio of 2-5:100 words. These words/phrases should be mentioned at least a few times in the content. Although it must be made sure that these are not spammed.
Behind every page there is coding and structure, with important factors such as Title Tags, Heading Tags, and Meta Data. Title Tag is the clickable link that shows up on the 'Search results' page of a search engine. Heading Tags are the particular heads of the page (for example 'Black Hat vs White Hat SEO', 'What NOT to do', etc. headings in this article). Metadata is the part of code that describes other parts of the code.
Off Page SEO is basically your online reputation based on other relevant websites. It is a long-term optimization method. There are no direct alterations to the content of your website involved. Our simple SEO checklist for Off Page SEO is:
Social Interaction and Online Presence.
Social activity is increasingly becoming an important factor for SEO. Google Crawler checks all relevant sources eventually backlinking to your main content. And although its exact algorithm is unknown, various trial-and-error experiments have shown significant direct impact of social media popularity and search engine ranking.
Acquiring backlinks from reputable and relevant websites for your content is the most important Off-page SEO factor. Links between websites create a web that search engine crawlers can follow to determine the quality and relevance of websites within the web. Bots like Google Crawler recognize both quality and quantity of backlinks.
Guest blogging is an effective way of getting backlinks from popular websites. As a guest blogger, you submit blogs to other more popular and relevant websites with backlinks to your own content. Upon acceptance, such blogs and content creates a decent backlink base for search bots.


SEO Backlinks and the Credibility Spam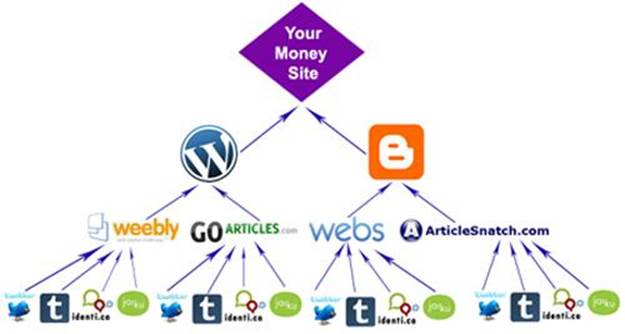 Backlinks are off-site links pointing at your website. They play a significant role in Search Engine Optimization. Due to the popular misuse of such backlinks, search bots have become highly vigilant in identifying spam (such as Tiered Backlinking(5)). That means backlinking from your own secondary WordPress or Wix or any other suspected spam sites does little to harvest organic audience. On the other hand, backlinking from more popular and credible sites helps way more in increasing search ranking.
SEO Tips for Increasing Ranking and Discoverability.
Make sure to post original, valuable, relevant, and quality content.
Make sure that your clickable URLs and Permalinks are sensible and readable.
Make sure to reduce the load time of your website by removing anything that slows it down, like extra code. You can check your load time and view tips on how to decrease your load time on websites like https://developers.google.com/speed/pagespeed/insights/ or tools.pingdom.com.
Link to other websites with relevant content. This builds your own reputation as a trustworthy and relevant site.
Acquire Backlinks from other sites by using methods mentioned above under 'Off-Page SEO'.
Create a social media presence and accountability for your content.
Research. This is a very important strategy for Search Engine Optimization. Paid tools such as Semrush tell how many backlinks a particular site is using, what keyword ranking they have, and where they acquire their reference from. A free but less accurate way of doing this is by adding the Keywords Everywhere extension tool to your Chrome or Firefox browser. Ahrefs also offers a free backlink checker tool, with paid options to view more data. For a more comprehensive list of research tools, visit our article: Best Paid and Free SEO tools in 2019.
What NOT to do.
I have mentioned it before and would again, don't get banned trying to gain search priority. Spamming of any kind could easily be detected by search bots and will penalize your whole site. Tiered Backlinking was considered a hack to this, but Google's algorithm is perpetually changing, and even that is an unsafe bet.
We Can help!
Search Engine Optimization can be a tricky concept to understand and even trickier to tackle. Symphysis maximizes the number of times you appear in organic search queries. Our SEO team begins by reducing loading time, improving image quality, removing leftover template code, implementing analytics, all while improving keyword ranking. For more information, call or text +1 (425) 390-4738.
Footnotes
Goodwill is a long-term intangible asset of an organization. It is basically the organization's reputation among its customers and the general public. It helps attracts customers and builds their trust in the organization.
Buying-cycle, which occurs between two purchases, is the process that a customer undergoes before buying or renewing a product.
Google Crawler is Google's inter-site navigation block that navigates through various backlinks on different sites to a particular site.
Bounce rate is the amount of users who leave the site before making a conversion. It is a crucial SEO factor as search engines do not prioritize websites with a high bounce rate.
Tiered backlinking is a form of spam backlinking where a person with multiple websites links them through one another tier wise. For example, suppose you have nine websites, Sites A-I, and A is your primary site. In tiered backlinking you would link Website B to, D, E and F; and website C to G, H, and I. And then you'd link site A to B and C, which are more credible and relevant. Google Crawler will eventually find its way from site I to A, assigning it multiple backlinks.